If you are a new reader/follower...I'm currently doing a series of posts on natural remedies I use during the winter. I try to keep the information easy to use and easy to understand. Please feel free to comment on how you may have used this remedy and the results you experienced. :)
ECHINACEA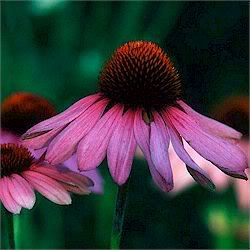 Echinacea is used to treat and prevent colds, flu, and other infections.
Echinacea
stimulates the immune system
to help fight infections.
Promotes T-cell activation while it increases the activity of the immune system. It helps white blood cells attack germs
Echinacea has also been used for wounds and skin problems, such as acne or boils, and eczema, burns, and inflammatory skin conditions
Enlarged lymph glands, sore throat
Urinary tract infections
HOW IT IS USED:
The aboveground parts of the plant and roots of echinacea are used fresh or dried to make teas, squeezed (expressed) juice, extracts, or preparations for external use.
I buy the echinacea tincture and administer the drops under the tongue. Sometimes, I put the drops in juice and let my kids take it that way.
If you don't like the tincture, you can buy Echinacea-Goldenseal tablets!
I buy the organic cold teas with Echinacea also which are very good. Sweeten with honey not sugar!
Also, I'm sure you've noticed you can even buy cough drops with echinacea! Buy sugar-free and organic if possible.
You will also find echincea in juice too.
DOSAGE
Dosage
Some sources suggest the following doses:
Capsules containing the powdered herb: equivalent to 900 mg to 1 g P.O. t.i.d.; doses can vary.
Expressed juice: 6 to 9 ml P.O. daily.
Tea: Echinacea Throat Coat is a good one. Drink 2-3 times a day.
Tincture: 0.75 to 1.5 ml (15 to 30 gtt) P.O. two to five times daily. The tincture has been given as 60 gtt P.O. t.i.d. (by mouth, three times a day):)
Special Consideration: You should only take Echinacea for up to 6 weeks, no longer! Consistent therapy will be sufficient actually within a 10 to 14 day period. Taking it longer than 6 weeks will be of no effect. You need to take a rest period! Personally, I would do a 2 week on 1 week rest for the flu season...unless your immune system is shot! ;)
The primary reason my family takes Echinacea is to build a strong immune system to fight flu and cold viruses!Contraindications And Precautions
Echinacea is contraindicated in patients with severe illnesses, including autoimmune diseases, collagen diseases, HIV infection, leukemia, multiple sclerosis, or tuberculosis, and in those who are hypersensitive to plants belonging to the daisy family. Avoid use in pregnant or breast­feeding patients; effects are unknown
(I do suffer a bit from seasonal allergies, but echinacea doesn't bother me):) If you are allergic to echinacea, you may experience some dizziness or a rash.
Where to buy:
The cheapest and reliable place I use is
vitacost
!!! They ship fast too:)
Hope you are staying well and practicing your natural remedies!