In the middle of chaos, I have here and there managed to get
to some of my projects! :)
I found this gorgeous, antique table at Sally's aka salvation army! :)
Picked it up for 40.00...I know, beyond what I would normally pay
for a thrift table but it is VERY sturdy...and soooo shabby chic
with it's new coat of white paint! It was a horrible array of dark
colors when I picked it up...I know..shoot me I forgot to take
BEFORE pics! Well, anyway I just LOVE the details on this table.
I think I ended up doing three coats of paint and LOTS of sanding!
Well, worth it. I absolutely adore the flowers and feet on this peice!
I could shoot myself for not grabbing the other table that matched!
Oh poo!
Sorry the last pic is a bit blurry and colored. This table is going
in my beach cottage living room next to my white couch! :) Not done
with my living room, pics soon!
Next up is my Christmas wall hanging quilt. Someone gave me a bag
of fabric that had all these scraps of Christmas pieces....so I
decided to try my hand at this pattern. I still need to put the
binding on and figure out how I'm going to hang it. It's going up
in my dining room wall for a cheerful, festive feel!
Here's a closer look at the fabrics I used.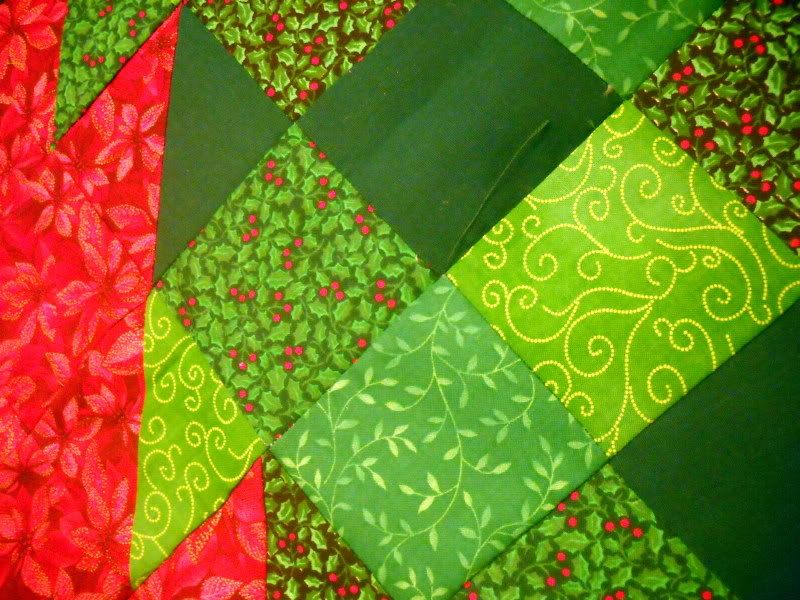 I was so thrilled this weekend, hubby finally got a chance to
hang this pot rack! I bought the thing two years ago at IKEA aka
my favorite place to shop! And I never have had a chance to hang
it. I like it because I can place things on top as well! And...
a place to hang my herbs and garlic to dry! :)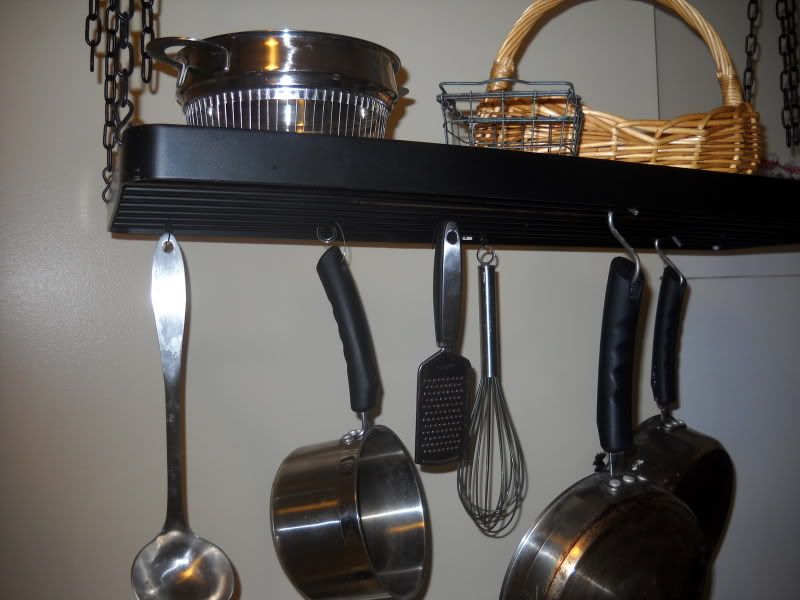 Frugal Finds:
Found this cute little shelf awhile back for 5 bucks! Needed more
storage in the kitchen so it sits by my stove and holds my
veggie baskets!
Found this basket for 5 cents to hold my tea stuff and the sugar
jar a freebie on a yard sale table. Been lookin' for one of
these for a loooong time!
Found my beloved antique door for 25 cents! I showed this before,
but I love it and it's become an inspiration to the rest of my decor
(much to hubby's dismay) haha!
So I'm wondering what else I could do with it? Or do you like it as is?
Found this adorable seashell at the base exchange for a dollar!!!
I put my cactus plant in it and it sits on my piano!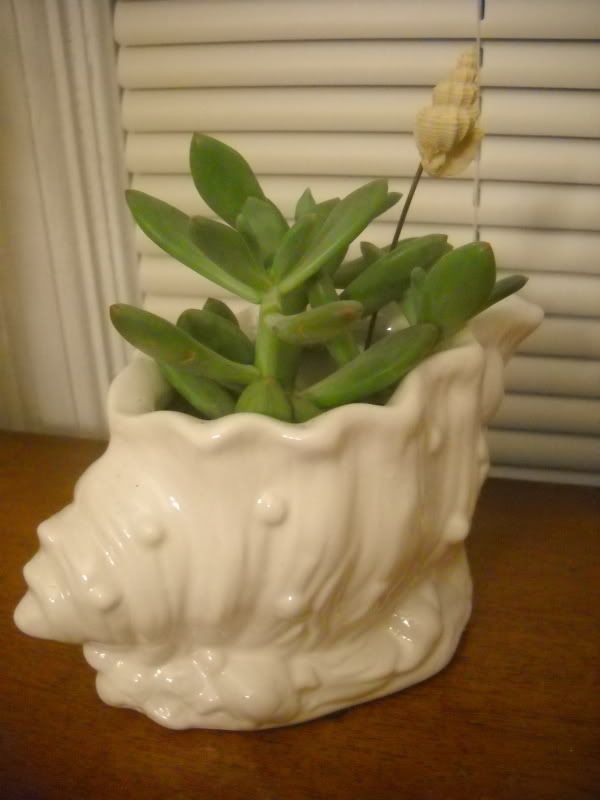 Found these adorable canisters at Fred Myers on their clearance
shelf for super duper cheap! :)
Repurposed:
This basket was a file basket...was gonna chunk it and decided to
take this white fabric and make a lining for it...now it sits
by the piano and holds my music books!
Well, gotta start baking for Thanksgiving! I started out with 4
pies last week, down to two, as hubby was overcome with temptation
and some how managed to eat two over the weekend! *note to self*
don't buy deserts till day before! ;)