TGIF!!!!!!!!!!!! Yea! Well, I thought we were going to wake up
to lots of snow this morning, but it hasn't hit....yet! I'm
sorta anxious to find out what this "lake-effect" snow is they
keep telling me about up here ;) I know...I'm a glutton for
punishment. I blame it on the lack of adventure going on here:P
Speaking of adventures, last weekend we actually did venture out
for a few short hikes and LETTERBOXING! Have you ever heard of it?
No we're not stealing mailboxes...well duh..if you happen to find
one on the trail let me know! ;)
Letterboxing is sorta like treasure hunting. You are searching
for a hidden box that contains a handmade stamp and a log book.
You use the clues on the trail to find your treasure. These clues
can be printed off the internet site by either going to
letterboxing.org or googling letterboxing in your area.
We started letterboxing about 4 years ago. Letterboxes can be
found all over the USA. I'm sure they are in your area. The cool
thing we found with letterboxing, is that it usually takes you to
some of the most spectacular places and views.
Everything you need to know, like driving directions, can I take
my dog?, my kids, ect, is on the page with the clues...generally the
stamps are all handmade, so it's neat to collect them.
First, you pick a trail name for yourself or group. Pick a stamp
you want to use as your trademark. ect. My sister and I chose Happyfeet
and we had a stamp with feet and hiking boots. You need a log book...
it can be a journal, notebook or whatever you choose. This is for you
to collect the stamps in. You need to also have a stamp pad as most
treasure boxes do not include the stamp pad. If it's a day hike,
please follow hiking rules for safety...like you know, WATER...
is good...good shoes...first aid kit, ect.
When you find the letterbox, you will stamp your stamp in their
log book and sign it with your trail name and maybe a note about
the trail or scenery. Then you put their stamp in your log book
and the date you found it and anything interesting that maybe you
saw or happened along the hike. (good for scrapbooking) I also
take pictures to put in my scrapbook later to remember our hike.
We've collected quite a few stamps in our logbook and have found
many beautiful parks, beaches and mountains views!! Well, back to
last weekend, we found a quite of few letterboxes maps in our area
and decided to look for them. We were in search of four, but found
three...sometimes they will be missing...the map will usually
indicate when they were last found and if they are ACTIVE!
These were all short hikes and some were in a park! We got to do
some sightseeing and discover some neat shops and a state park
we'll be back to visit! Great way to see a new town and discover
new places when you move.
Well, we didn't find this box...it was missing. It was supposed to
be hidden in the cement crevise of this old antique building. Oh
well, let's get a picture anyway! =)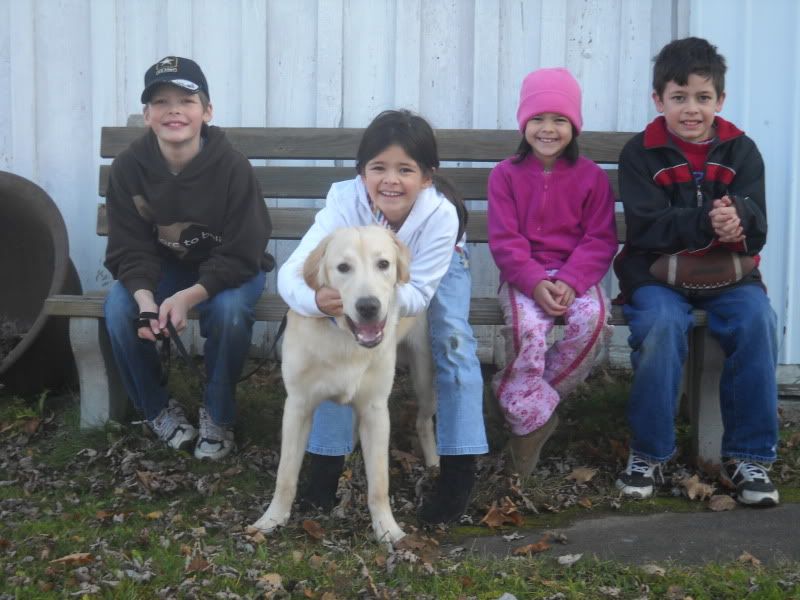 Can you tell the one on the right is a
bit chilly? The little one to the right doesn't care as long as
she's in the picture...little girl on left is just happy to take
the "new" dog out with us...guy on the left, remains cool, calm
and collected. =)
Next hike took us to an old cemetary off a country road. We were
looking for a letterbox honoring a civil war veteran!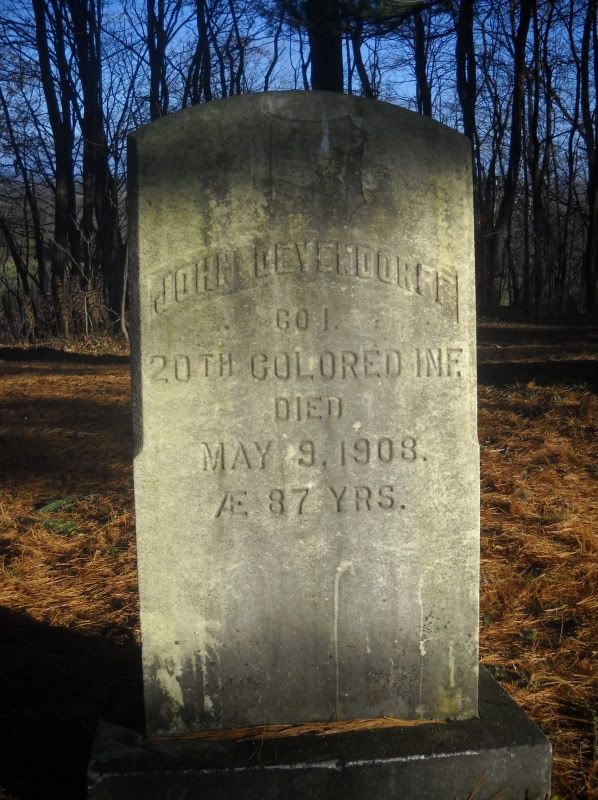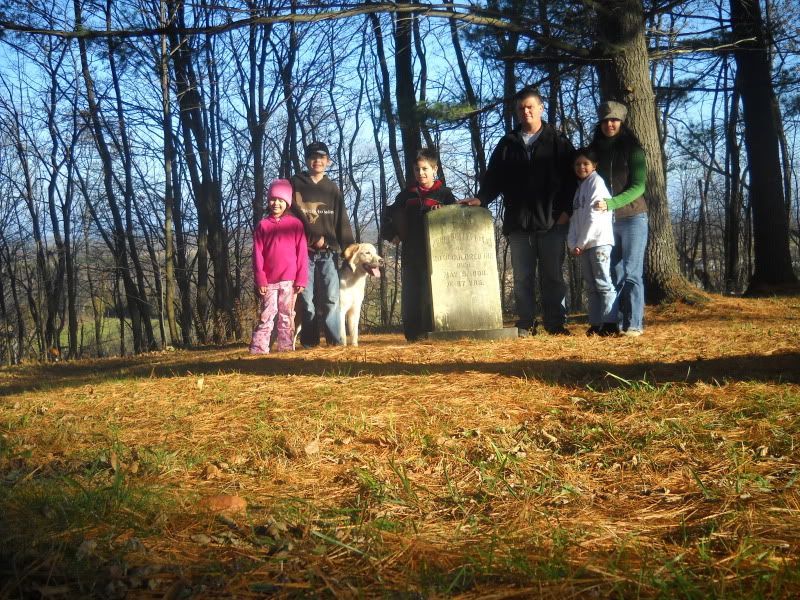 Yea! We found it!
After finding Mr. John's headstone, the tree split in two,
a bullfrog, railroad trackes down the hill and a broken fence...
ta da...we managed to dig up enough dirt to find it...and I do mean
that literally!
Here's is our handmade stamp we found in the box. I'm guess it's
a maple leaf...since
they're...like....everywhere here =)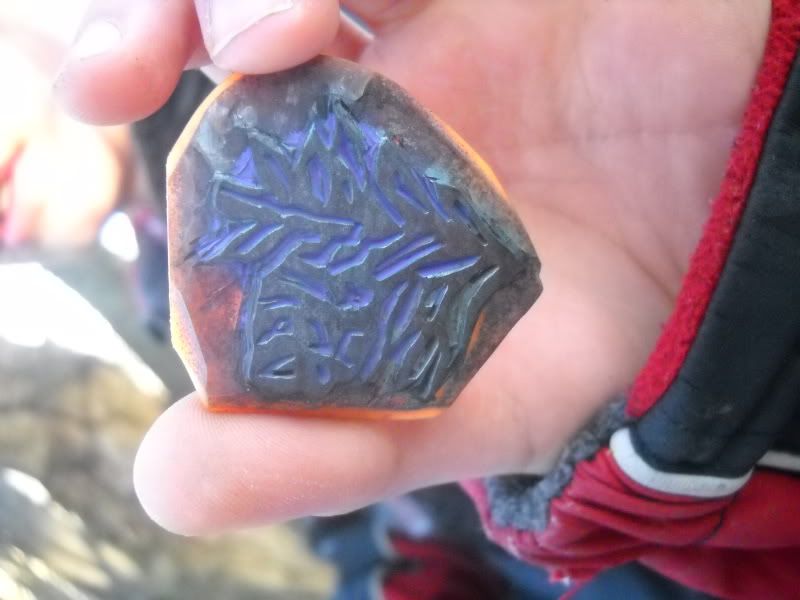 Here is the stamp in our log book! Get the picture ;)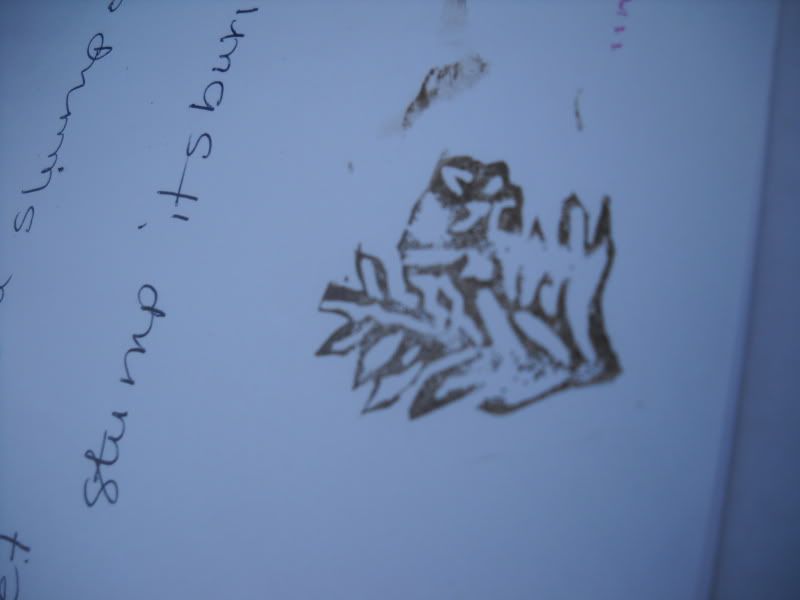 Next hike took us out of town to this old mill on a dam! Oh,
behind an ice cream shop! Too bad we were too cold to have an
ice cream cone...but we were happy to find it so we can come back
this summer and sit by this beautiful place eating ice cream!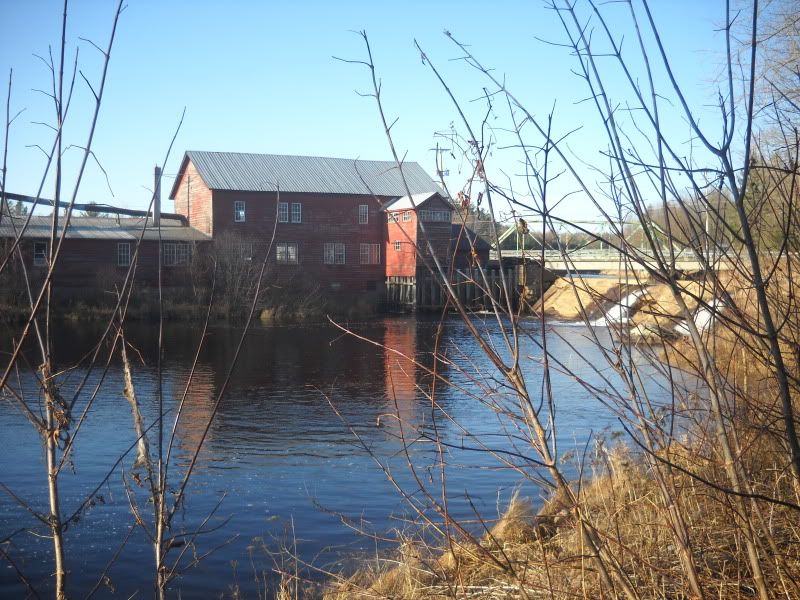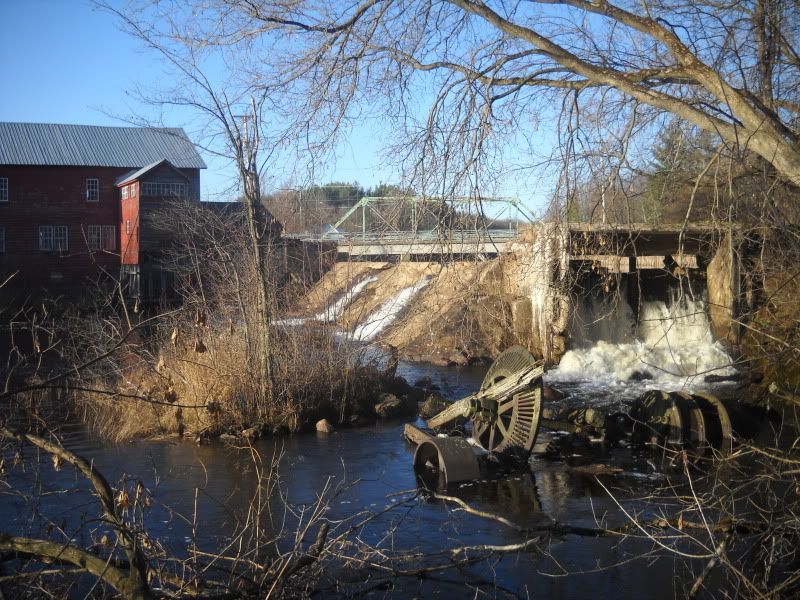 Oh yes! And she found it!...behind the tree near the water!
(caught hubby with eyes closed on this one!)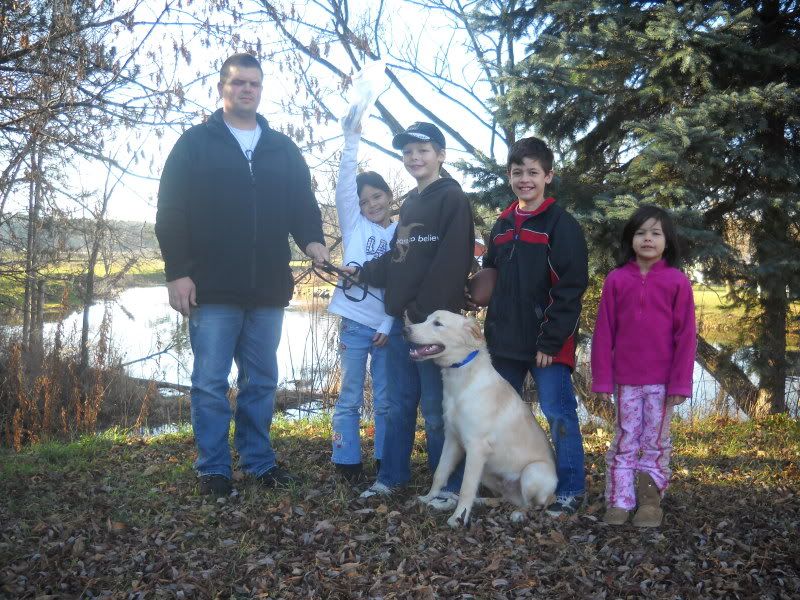 A bit blurry...but it was an ice cream cone because it was found
behind the icre cream shop and apparently a favorite place of
the locals during the summer.
Time for a break! Treasure hunting is hard work!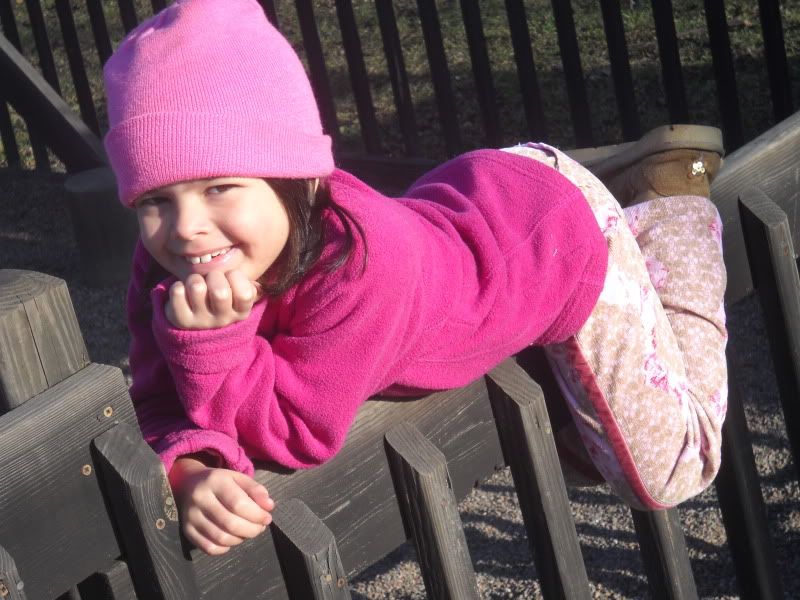 Our final letterbox took us to another old cemetary in the
country to find the headstone of a World War I Veteran. After
counting headstones, trees, and figuring out which way was east
or west...we find it inside a tree!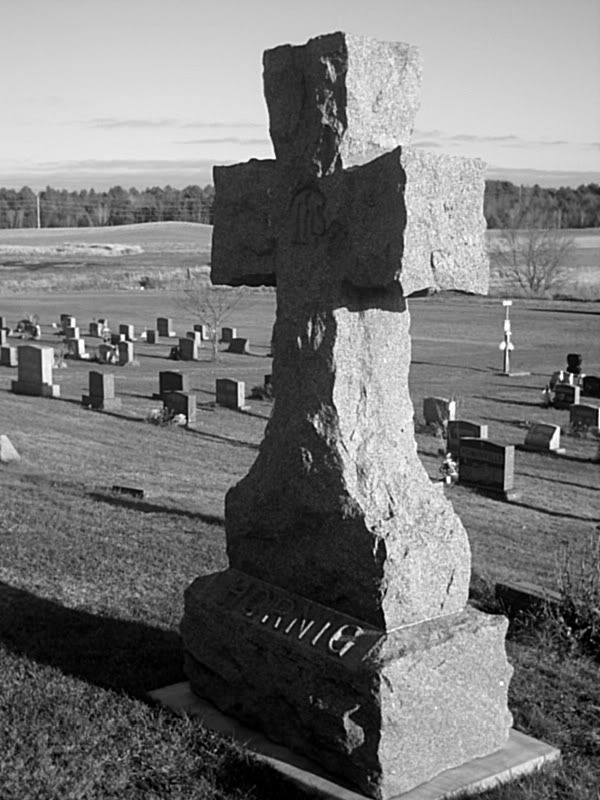 And so ends our saturday of letterboxing! =) A more adult version
of letterboxing is called Geocaching. A bit technical as it
involves a GPS and reading maps :P
We try to check out any letterbox maps when we know we're going
hiking, on a trip, or want to check out new places to explore!