Whew! How did Sunday get here and end so fast?! Monday seemed to be
staring at me in the face just minutes ago...and here I am bracing
for another Monday. Okay...no...it's really not that bad...just
have TONS to do this week.
My book club is having it's first official discussion on a real
book this Tuesday. Yep! We finished our first book and we are
gathering together to discuss/debate....haha... I'm really looking
forward to it. We are also doing a homemade gift exchange! There is
something unique in giving a gift that's handmade! There was lots of
thought and time put into it, and mostly no one I'm sure will get the
same gift or have the luck of finding one like it to be sure. I can't
tell you what mine is, because I have a few readers who will be at
the book club. But I will take pictures for you nosey people. heehee
My soldier and I went out this weekend...the road was finally clear
enough to venture out. I went to the bookstore in the mall to find a
book he's been wanting. I stood in line for half an hour! It was like
Black Friday!!!!!!! Well, I suppose with only two weekends from
Christmas being here, I should've expected it.
Then he took me from store to store looking for the right price on
a perfect pair of boots...I saw tons I liked...they were asking
too much (IMO) or I put them on...and I felt like this cat!!!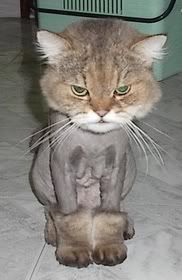 Naked with a pair of boots on!
Okay I guess at 5'4 I would be considered short, but it seemed every
pair of boots I put on swallowed up my leg. I was looking for furry,
not too furry, high, not too high...no heel...insulated....well,
needless to say, I left the mall with no boots. My hubby says,
he'll just pick them out when I'm not with him and what I get I'll
like...he's right, I just can't make up my mind! I'm the shopper
that stock clerks wish were never born, because I'm constantly
picking up things and changing my mind about them by the time I
get to the next department. *sigh*
We really did have a wonderful time together, despite the weather,
the army base was closed which gave us an extra day to spend with
him. And...he bought me a peppermint, white chocolate breva while
I waited in line with his book! :)
After church today, we snapped a few pics of us together for our
picture cards to send out! Yes, I do things at the last minute it
seems. I wasn't sure which one to put on the card..hubby wanted
one with the snow in the background, but just as soon as we headed
outside, it started snowing and sleeting at the same time!!!
Hubby does not look real thrilled to be getting his picture :)
That is not glitter or dandruff all over his hair and sweater, that
was our attempt to take the pic in the snow/sleet! haha...Oh well
I guess it adds to the pic huh?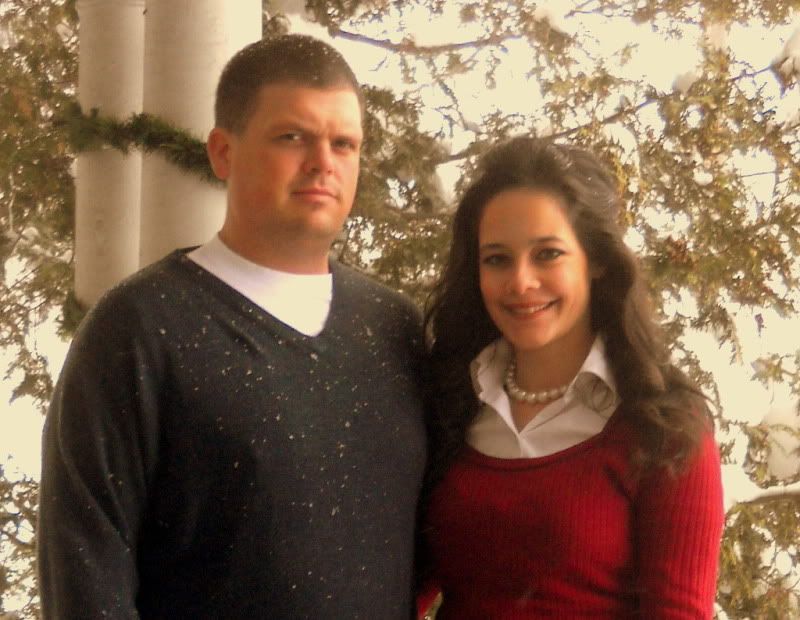 Wishing you all a blessed and happy week!