My soldier called me tonight! Poor connection that I
can hardly hear him...and then it doesn't help that the
new phone I bought is crappy and just hangs up in the
middle of a conversation! He's been up coughing all
night and therefore, isn't getting any sleep. I hate
I'm not there to help him feel better! He was going to
see the Medic when he got off the phone to get some
Meds
.
I don't know what I ate or drank but I should try that
again, whatever it was, cuz I finally have had the energy
to do stuff since soldier left!
My boys and I moved the piano into the living room. I was
going to get rid of it and get a digital since we're living
on post! But decided to keep what I had and since we (kids
& I) are supposed to sing at church on Sunday, I thought
it might be a good idea to actually practice a bit before
we get up there :P
Well, the nice sunny weather that I thought was spring was
literally April Fool's. The last two days have been cold and
rainy, and tonight we are supposed to get snow flurries!
Welcome to upstate New York! Do you know they send soldiers
from Alaska to train here, because it's colder here????
Back to our lovely spring weather, I hate that I can't
plant anything till May!!! That's practically the middle
of summer! :O So instead I put out a bird feeder, two
of them and filled them to the brim.

The next day I had every species of bird from here to
Cancun in my backyard. And three days later BOTH my
birdfeeders were completely empty! Geez, I thought MAYBE
I'd have to buy bird seed every couple months, nope,
looks like now that will be a staple on my grocery list.
I can't very well stop, my kids love watching them.
Is there some way to get rid of the pesky Blue Jays though?
They run off the cute little finches that try to eat.
I am totally missing out on the beautiful Tulip fields
in Washington state. April is so gorgeous in the valley.
This one was taken in Mt Vernon, WA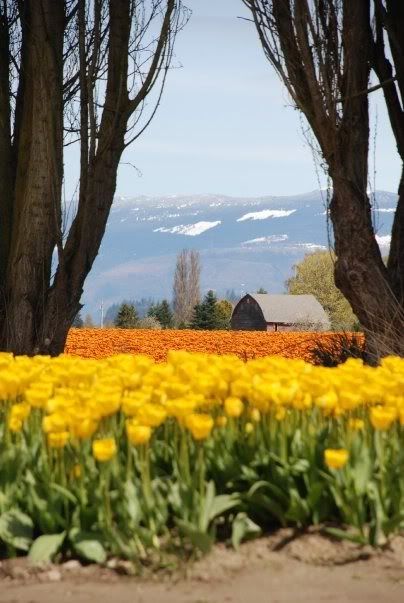 Here is Big Sister playing in the tulips!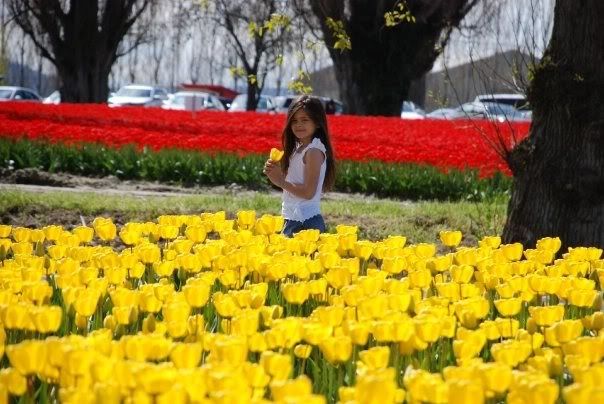 Two weeks and a whole day into deployment, and little girl
asks everyday, "How long has daddy been gone?" I sigh, "Too
long!"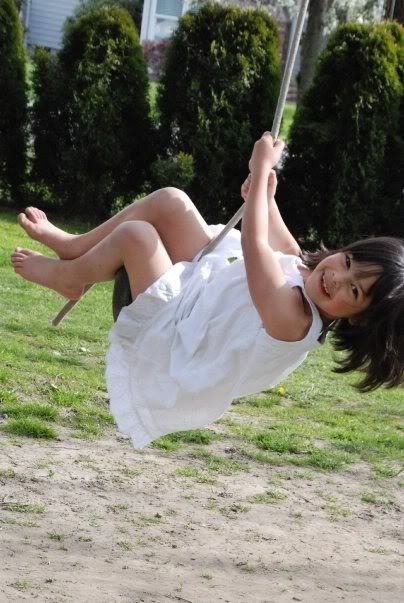 So many of you are saying prayers for us and your comments are
encouraging to me! Thank you! It means a lot to me~

ARMY WIFE