Well, one thing is for sure, I will never have to
say I lived a boring life. Nosirreee...not me!

Yesterday I wanted to slap my husband for asking me
if I could still get pregnant with ONE ovary!!!!!! As if
four kids, a cat, and a dog in heat is not enough!!!
Well, any other time, I might not have felt the urge
to slap him except that I have a throbbing headache
because said 4 kids decided to give said dog a bath
with some cheap cologne they found in the neighbor's
trash pile!!!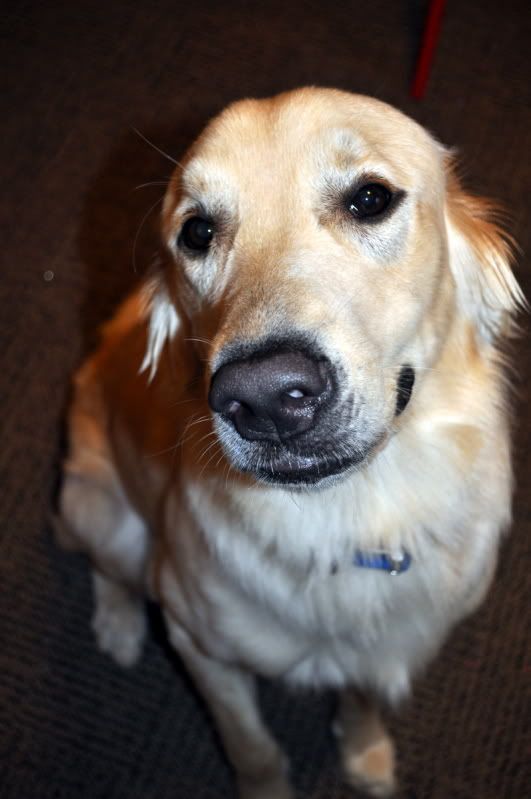 This was a feeble attempt to cover for the dog who
decided to crap on the floor because I left him!!!
When I first moved on Army post, I mistakenly told
my friend that I thought my neighbor must have had
a fight with her husband and threw his stuff out the
house...cuz it literally looked like she threw
everything he owned in the yard. Then after spotting
several yards look the same over the past month, I was
thinking surely these army wives are not going
bonkers on our soldiers...there's a slogan "the
army will either make or break your marriage".
Well, it wasn't the case...everytime a family moves
they are entitled to one BULK garbage pile when
they move. These people throw away some seriously
good stuff!!! "Hello Audra, need to move closer to
army base" LOL So my kids have picked up mom's
horrid habit of going through other people's trash
and bringing it home! They were not going to let
that wonderful cologne go to waste either. I
probably can cancel the groomer, because I'm pretty
sure his fur might very well fall out!

On a brighter note, yesterday I dined with these
two lovely ladies!!! My old neighbor Jess, and her
best friend Angie, also an army wife. I'm sure
we could've talked for hours....I'm looking
forward to getting to know Angie better, as she will
be joining me here soon! And possibly many more
lunch dates in the future! :)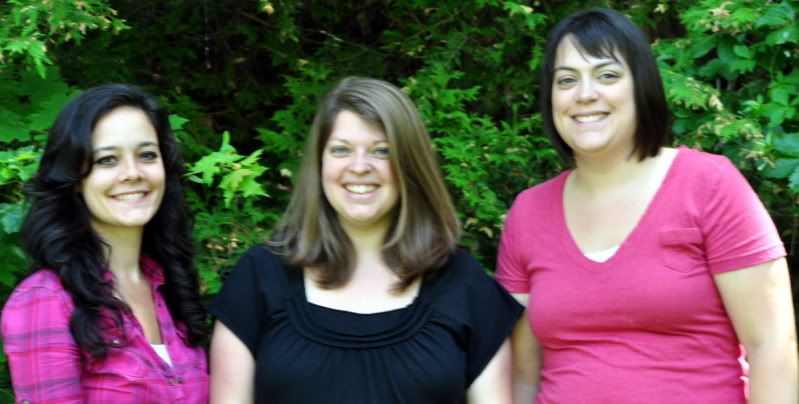 My kids have been cardstacking!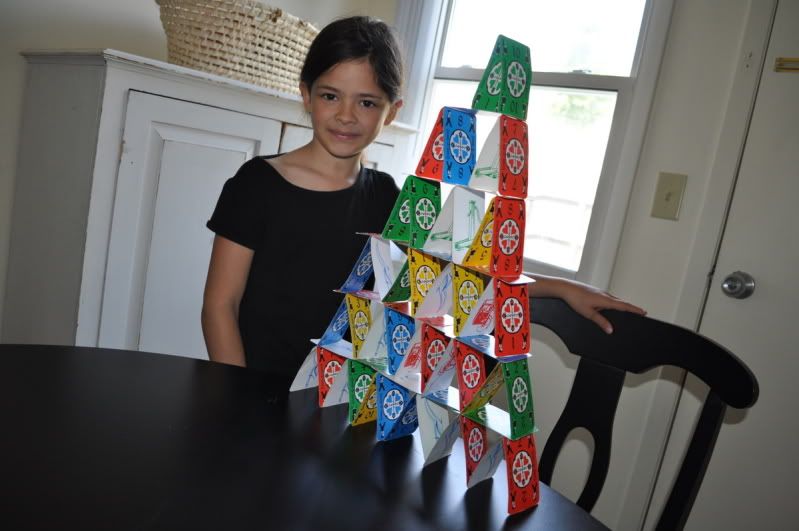 They told me this was Lowie's "circle of peace".
Too bad it's only temporary..I'm sure Lowie was
hoping for something a little more concrete!
So I finally painted the living room! It's Cafe la Te
from Walmart. Was not going expensive since this is post
housing and more than likely will have to paint it back!
But for Walmart paint, I was pleasantly suprised that it
only needed one coat. I also have finally tackled the
framing of some of my photography! I know I know...it's
taboo to hang family photos in living room, but my house
was never a museum and it. is. my. house. It puts a smile
on my face to be surrounded with pictures of people
that I love! Not sure if the pillows are staying, my house
is more beach cottage...I dont' know how the zebra print
came about...have you ever spotted on the beach??? I would
love to do blue....but I love green...I think I'll marry
the two together when I find the right pillows or
fabric. Whatcha think????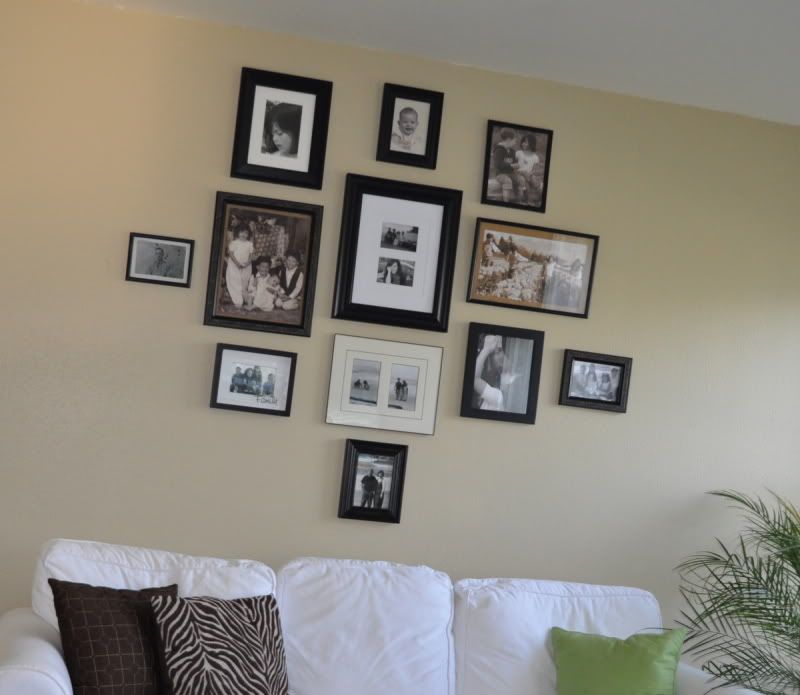 Remember my green tv cabinet...thinking of staining it
expresso!? But I do adore the green...just thinking
I wouldn't be confined to only sticking with green in
the living room if I go with expresso and change the
knobs to silver.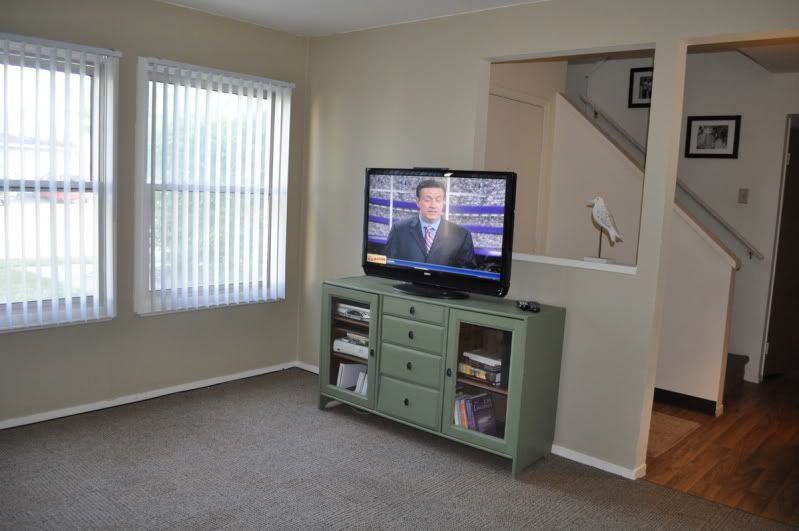 I finally got my shelf that I have been drooling over
for months! It was discontinued from At Home America,
and the lady kindly looked for it till she find one,
still brand-new in the box and sold it to me for
dirt cheap!!!
I almost killed this pigmy palm tree outside, so it
sits beautifully in my living room now.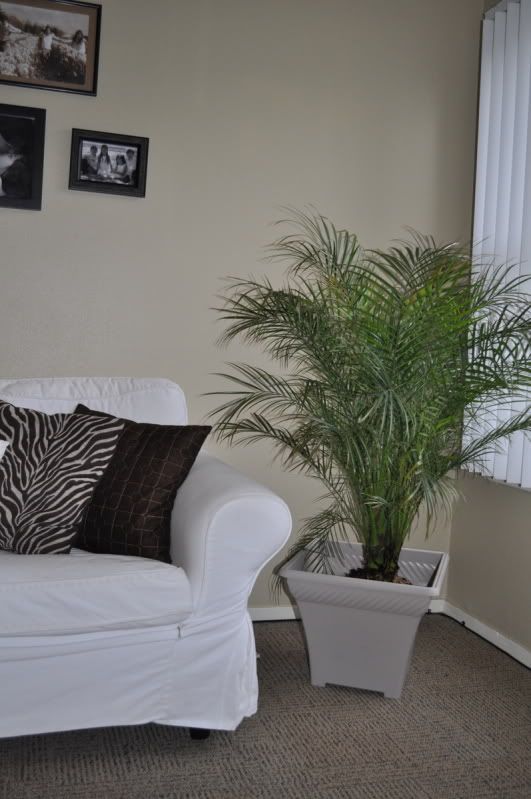 I moved these thrifty finds into the hall in front
of the door. The lamp is too much I know, looking
for an alternative..or maybe no lamp.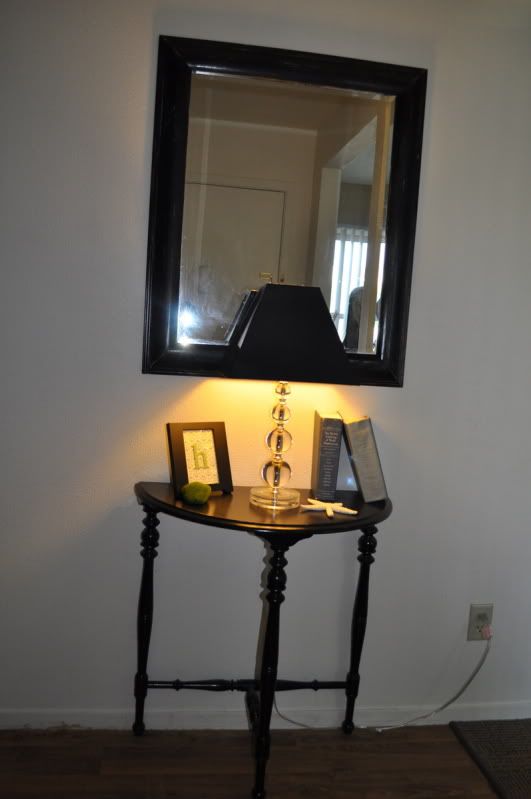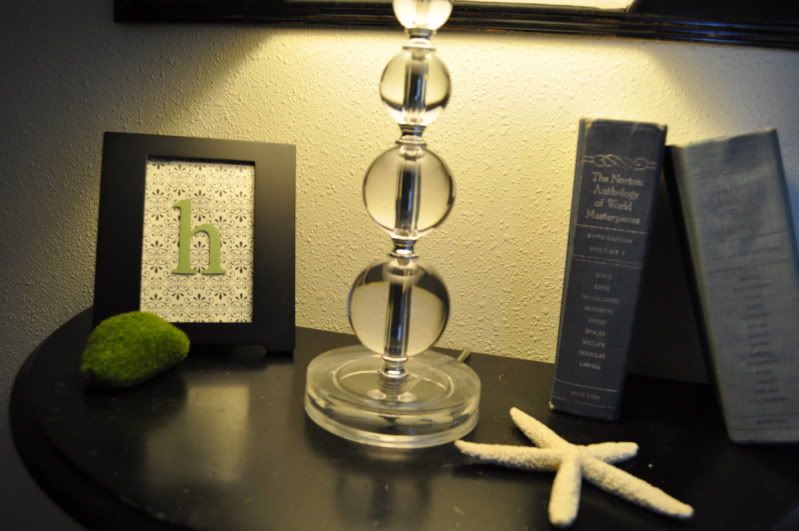 Well, I'm off to catch up on my blog reading!