Saturday morning I said Goodbye to my best friend
of 15 years! What do you say? What do you talk about? We ate
a quiet breakfast at 4:30am...well, I take that back, I didn't
eat...my stomach was in knots. He asked if there was anything
I wanted to talk about before he left. Now, where was that
"list of stuff to say before soldier leaves" at.... He told me
all the memories he would remember of the 15 days he was home.
I told you he was mushy. I pretend to be tough and hold it all in.

I started cleaning the house. I didn't clean really the whole
time he was here, I knew he wouldn't want to waste a precious second.
So I cleaned literally all day, right up till one of the army wives
came over for dinner, cleaned up dinner, put the kids up for bed,
and then walked around looking for something or someone to talk to.
All of a sudden it seemed to come crashing down on me that I said
goodbye to soldier and I won't see him for 8 whole months!!! I
suddenly felt the huge emptiness in me that lingered inside all
day. It finally reared it's ugly head up at me and it felt like
someone died. I cried myself to sleep and prayed that God would
give me peace and strength to make it through the next eight months.Today is Thursday....It seems like he's already been gone too long.
I haven't heard his voice since he left. I remind myself that God
is my shelter, my rock, my high tower, my fortress, a friend that
sticketh closer than a brother.

The day before he left...we spent the day at the lake and I
managed to grab some memories on camera.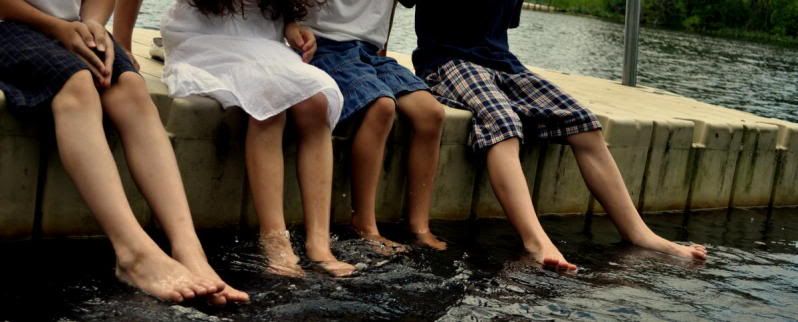 ARMY WIFE~