Did you know that an eagle knows when a
storm is approaching long before it breaks?
The eagle will fly to some high spot
and wait for the winds to come.
When the storm hits,it sets its wings
so that the wind will pick it up
and lift it above the storm.
While the storm rages below,
the eagle is soaring above it.
The eagle does not escape the storm.
It simply uses the storm to lift it higher.
It rises on the winds that bring the storm.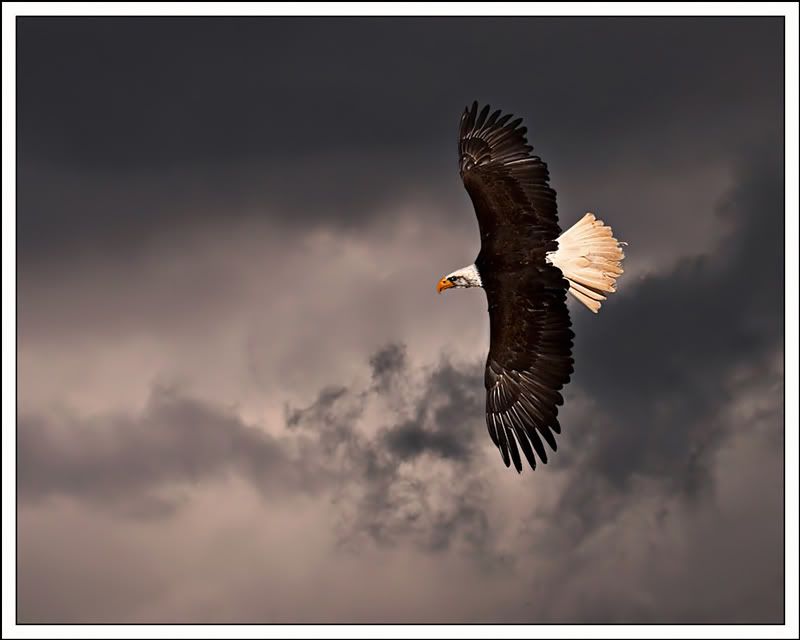 When the storms of life come upon us -
and all of us will experience them -
we can rise above them-
we can climb higher-
to the One who controls the winds and the rain!

I heard this message last week, right in the nick of time,
before a few storms hit. The flesh takes us right into
the fury of the storm, worrying, fretting, and focusing on
the circumstances around us. Yet God is begging us to
mount up with wings as eagles and climb higher, above the
storms of life.

When I climb higher,closer to Him, it's more peaceful, it's
suddenly clearer, I see things differently,
it's restful...and I'm not paying attention to the "howling
of the wind" or the "loud thundering".

"But they that wait upon the Lord, shall renew their strength;
they shall mount up with wings as eagles; they shall run, and
not be weary; and they shall walk and not faint. Isaiah 40:31.
God brings storms in our life sometimes to get us to climb
a little higher...a little closer to Him. Sometimes we fly
too low in life, dwelling on all the circumstances and problems
in this life. The air is cleaner and less cluttered when we
start climbing up. When I climbed to the top of Mt Marcy a
week ago, I experienced this. It was so quiet up there you
could hear a pin drop...nothing.

Let the storms lift us higher...let them bring us closer
to LORD who controls the storms and let only HIM be our refuge
and our strength in life. There is rest and safety there.